Very, very deep water is accessed almost immediately from launching so you'll spend most of your time fishing, not travelling. You can even stay on land and target fish off the rocks. For those that are really keen you can even try fishing the traditional way from a vaka (canoe) or head out for a flying fish netting session.
Black, blue and striped Marlin; Skipjack and Yellowfin Tuna; red Bass, Mahimahi, Sailfish, Wahoo and Giant Trevally, amongst many others, are commonly encountered.
To take a sneak preview of spearfishing in Niue click here to view a video.
Niue has several professional operators running established, safe and reliable charters. Whatever your preference or experience you can virtually be guaranteed a big fish, a big fight and an even bigger story to share at the end of the day!
Fish Niue Charters
Manutahi (Seabird) is a 6.3 Stabicraft purpose built for Niue's waters offering a range of options customised to your fishing needs. Our vessel complies with Niue's safety requirements and carries all appropriate safety equipment. We carry quality Shimano game rods and reels which are rigged to IGFA standards catering to both the novice anglers and those fishing enthusiasts.
Our main fishing methods are trolling, jigging and casting targeting iconic species such as Wahoo, Tuna, Mahimahi and Bill Fish when in season. Our anglers are also able to take a piece of their catch to enjoy back at their accommodation. We also offer spearfishing charters. Local skipper BJ Rex has been fishing in Niue for many years.
Contact: BJ Rex
Email: [email protected]
Phone: +683 4213
Mobile: +683 5697
Facebook: Fish Niue Charters

Gone Fishing Niue Charters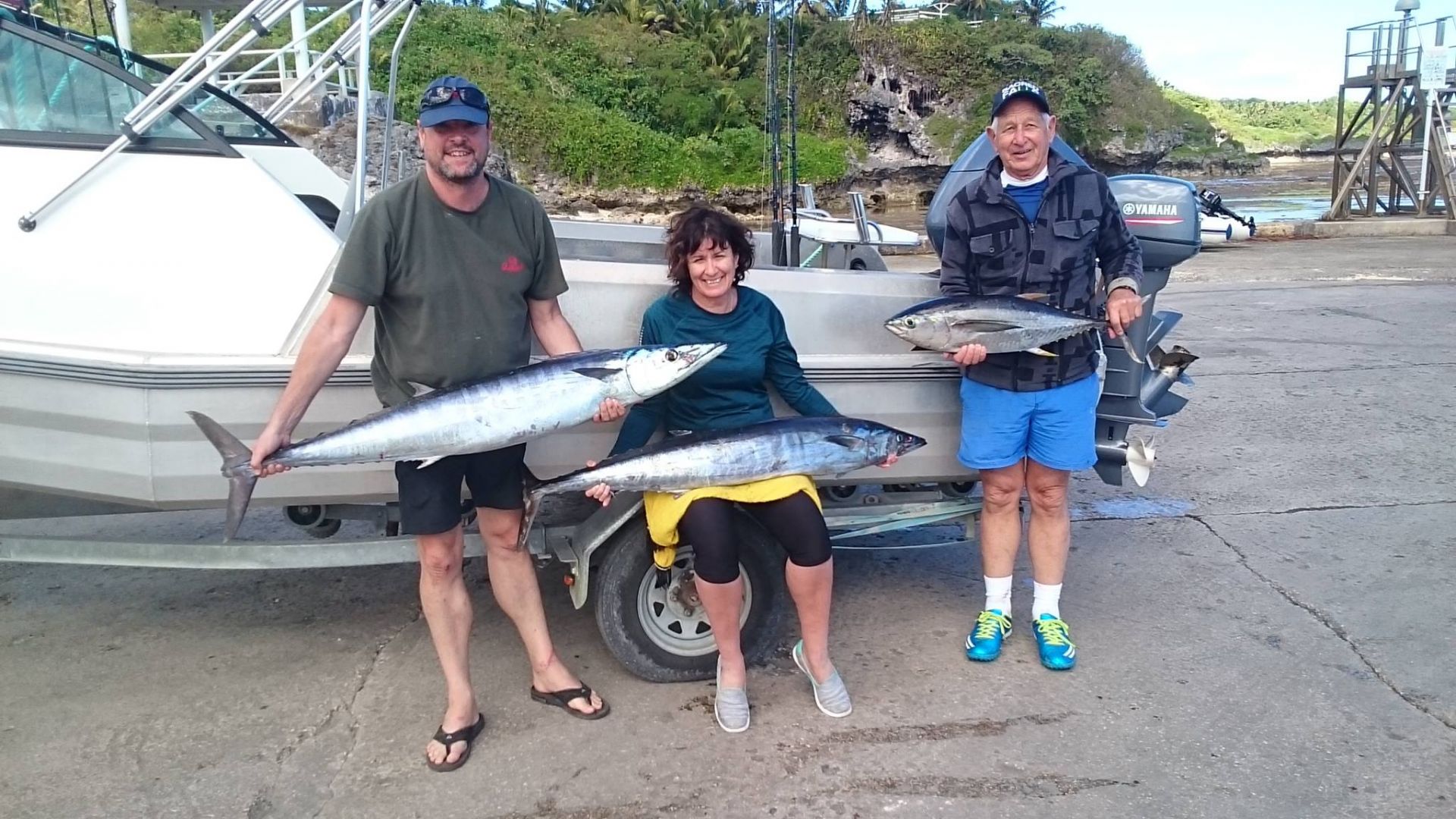 My boat is a Stabcraft 1850 Fisher with all safety requirements of Niue Fisheries. Fitting with 100HP Yamaha 4 stroke motor, 15HP Yamaha Aux, Come and join me doing what I love. Use my fishing gear which consists of Shimano Rods and reels, EPIRD, GPS and Fish finder or you can bring you own. Our target fish are Wahoo, Yellowfish Tuna, Bill Fish and Mahimahi. I can take a maximum of 3 passengers on a 3-4 hour charter.

Contact: Alan Wilson
Email: [email protected]
Mobile: +683 888 6206
Kiu Tahi Charters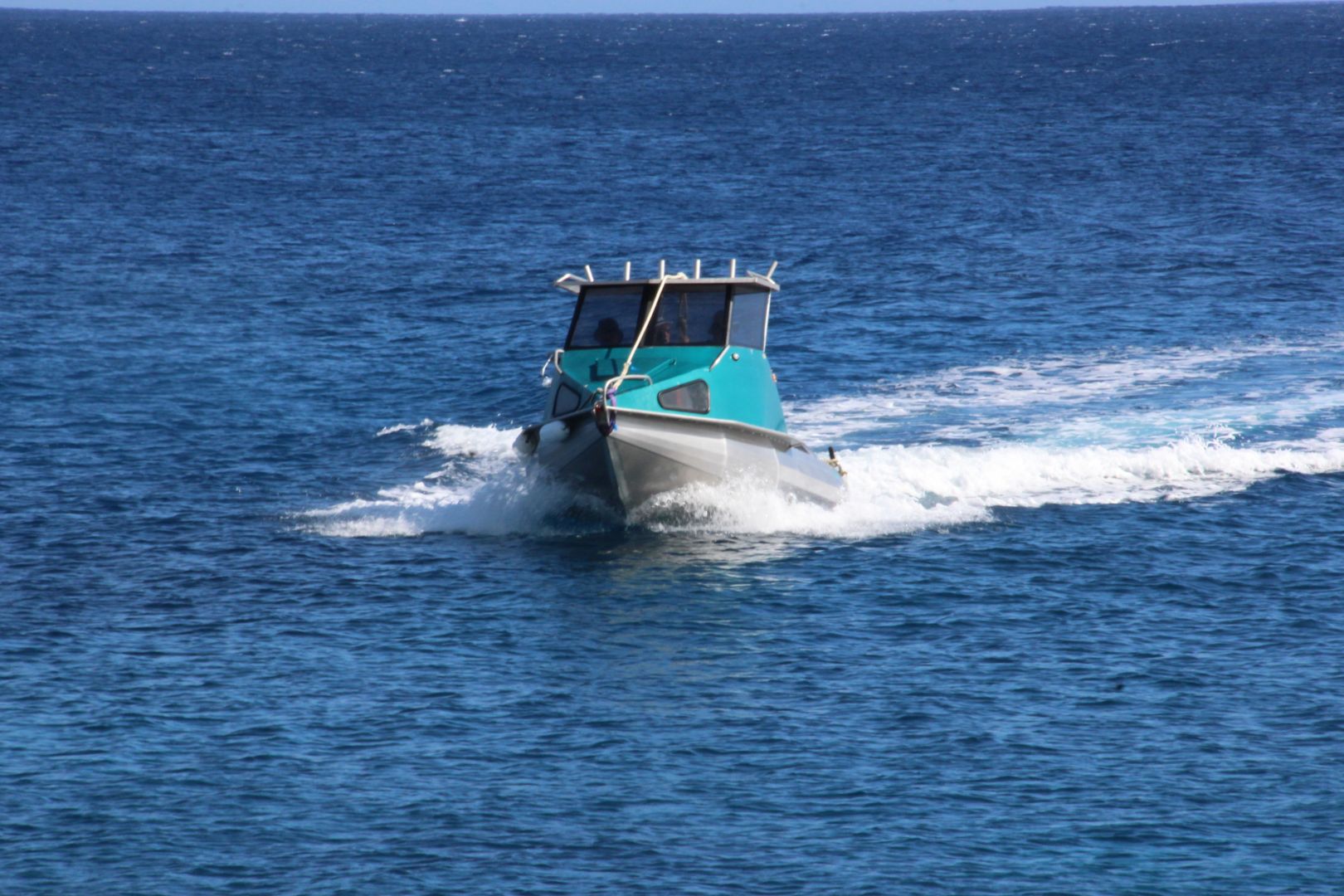 Kiu Tahi charters has its name derived from one of our Native Birds the "Kiu", legend has it that this bird of the sea sings its song at high tide and sings again at low tide informing fisher fold of the changing tides.
Length 5.7m, with pontoons and design similar to that of a Senator, has a hard top and rocket launchers for extra rod space. Kiu Tahi is powered by a 115hp Yamaha four stroke main and backed up by a 15hp auxuliary also Yamaha four stroke. Kiu Tahi trawls lines and has the option of jigging and bottom fishing if the fish are off the bite on the trawl.
Kiu Tahi is geared for targeting Wahoo, Tuna, Mahimahi, Dog tooth tuna, GT and Pacific Barracuda.
Kiu Tahi Skipper is James Douglas a local who has thousands of hours experience fishing the local waters, a skipper who is welcoming, easy to get along with and knowledgeable of Niue customs and traditions.

Contact: Billy Talagi
Phone: +683 4288
*CLOSED UNTIL FURTHER NOTICE
Niue Wahoo Fishing Charters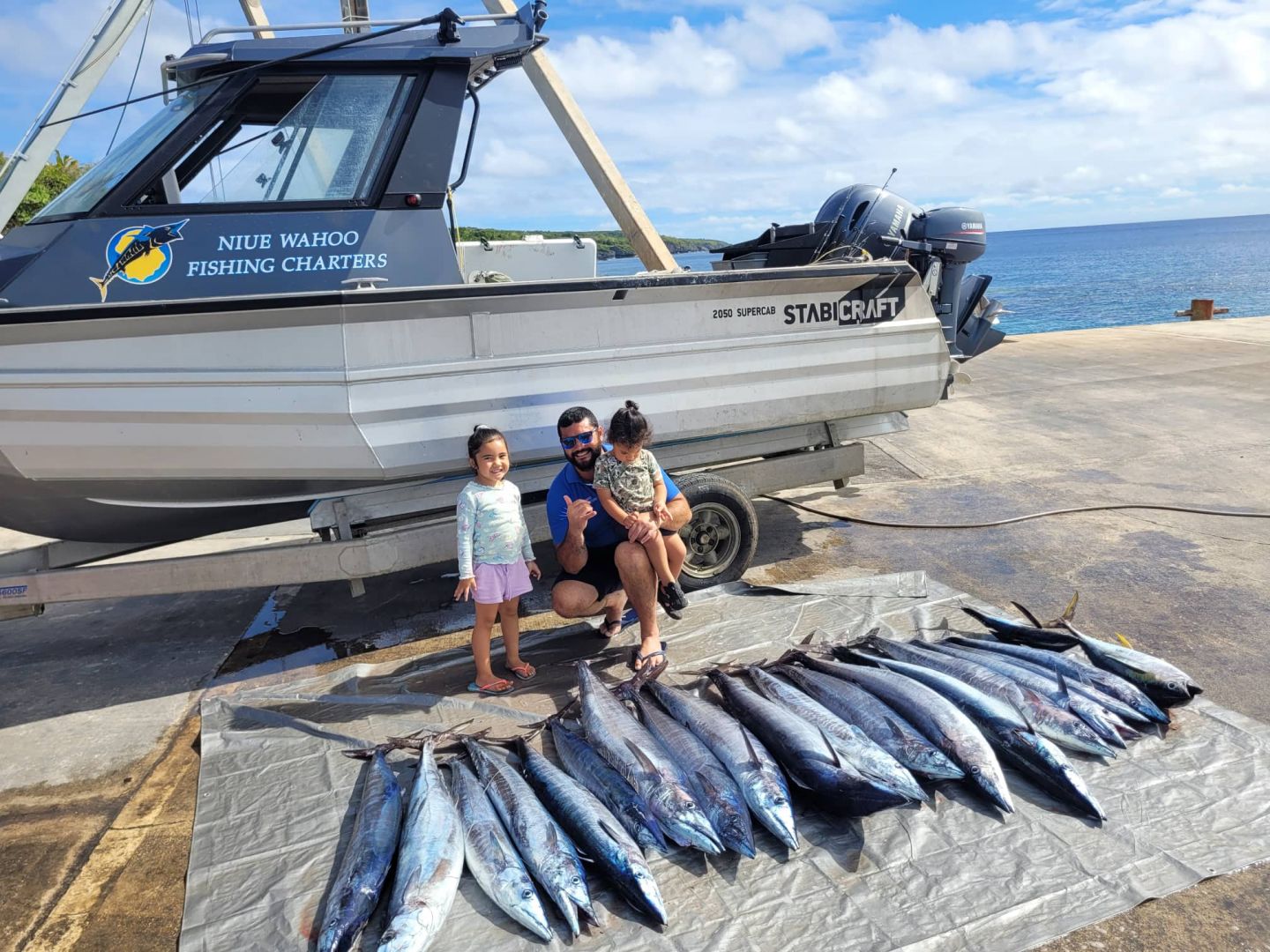 Niue's latest charter boat. A 2018 Custom built stabicraft 2050 hardtop. This boat has been set up primarily for taking up to 4 anglers out at a time. Niue Wahoo Fishing Charters is skippered by local fisherman Clifford Marsh who has been fishing for many years and has built up the experience, knowledge and respect of Niue's waters and values its customs and traditions.

We carry quality Shimano rods and reels and cater for all types of fishing such as trolling, jigging, casting and cubing however, you are more than welcome to bring along your own gear and style of fishing. We pride ourselves in being family friendly and cater to children as well as catering for the more serious fishers. We carry all the required safety gear complying with Niue's safety standards and regulations.

We offer 2 charter options, our standard 5 hour fishing charter or a relaxing afternoon charter for 2.5 hours.
Come out with us and enjoy the views, stories and the fishing, we guarantee you will not be disappointed.

Contact: Clifford Marsh
Email: [email protected]
Mobile: +683 5530
Website: www.niuewahoofishingcharters.com
Facebook: Niue Wahoo Fishing Charters
Sea Turtle Charters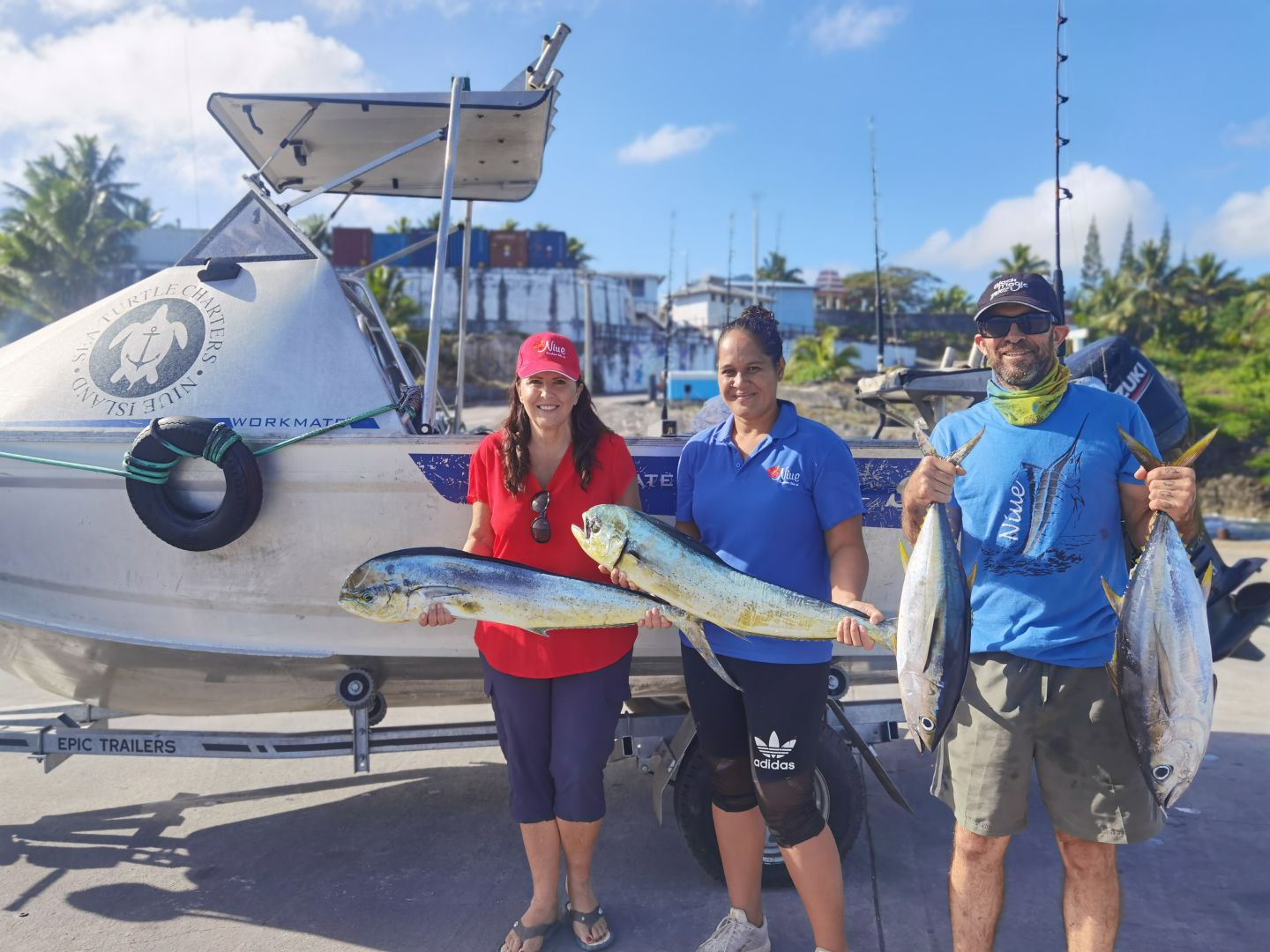 Our 5.5m Surtees Workmate is a purpose built fishing/diving boat. Sea Turtle Charters wants to give you an experience on Niue you will never forget! We specialise in affordable fishing/boat charters for 1-2 persons. We recognise that a day on the water shouldn't cost the earth and that each angler gets the full attention of the skipper.

Contact: Ian Richardson
Email: [email protected]
Ph: +683 4670
Mobile: +683 6136
Website: www.seaturtlechartersniue.com
Facebook: Sea Turtle Charters


Teresas Charters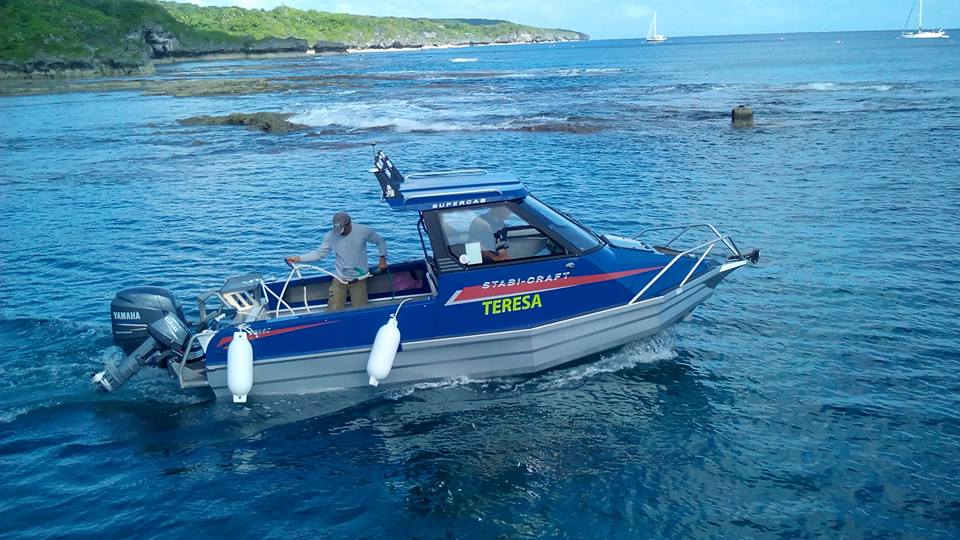 Teresa's Charters is a 6m Stabicraft boat with a 115 HP Yamaha Outboard motor plus an 8 HP auxiliary motor. Space on board allows for up to 3 passengers maximum plus the skipper and his deck hand. Fully equipped with safety equipment, and all fishing gear is provided including game rods, light and heavy gear, lures and baits.

Contact: Des Hipa
Email: [email protected]
Ph: +683 4179
*CLOSED UNTIL FURTHER NOTICE
Niue Fishing Charters
Niue's newest and largest Sport Fishing Charter boat. Well-appointed Stabicraft 2400 Supercab (7.3m) alloy pontoon boat with game chaser transom, custom built for Niue waters, powered by 200hp Yamaha 4-stroke motor. Quality Safety equipment to comfortably meet local safety regulations, and basic first aid. Full hardtop and pontoon hill provides that added safety and comfort, and is an awesome platform for fighting local blue water predators, either standing up or sitting down. We carry top quality Shimano standup gear for trolling, jigging and casting, and quality terminal tackle and local baits. We specialize in trolling, jigging, and the occasional casting, with other methods also deployed....whatever works on the day.

We also offer scenic and whale watching tours, as well as blue water spearfishing adventures, though we recommend you bring your own spearfishing equipment, and require prior information on your experience. We carry basic equipment such as weights and weight belts, flasher rigs, bungee/hard lines and floats, and reasonable alloy and carbon fibre rail guns, which can be made available on request.

Owned by local Niuean's Brendon and Tiana Pasisi, and skippered by Brendon (mainly), with over 30+ years of fishing and diving experience, and boat operations on the island. Local charter policy prevails that catch stays with the boat, however you are welcome to a piece of the catch suitable for your dinner.

Contact: Brendon or Tiana Pasisi
Phone: +683 4312
Mobile: +683 5539
Email: [email protected]
Facebook: Niue Fishing Charters
Paul Pasisi Charters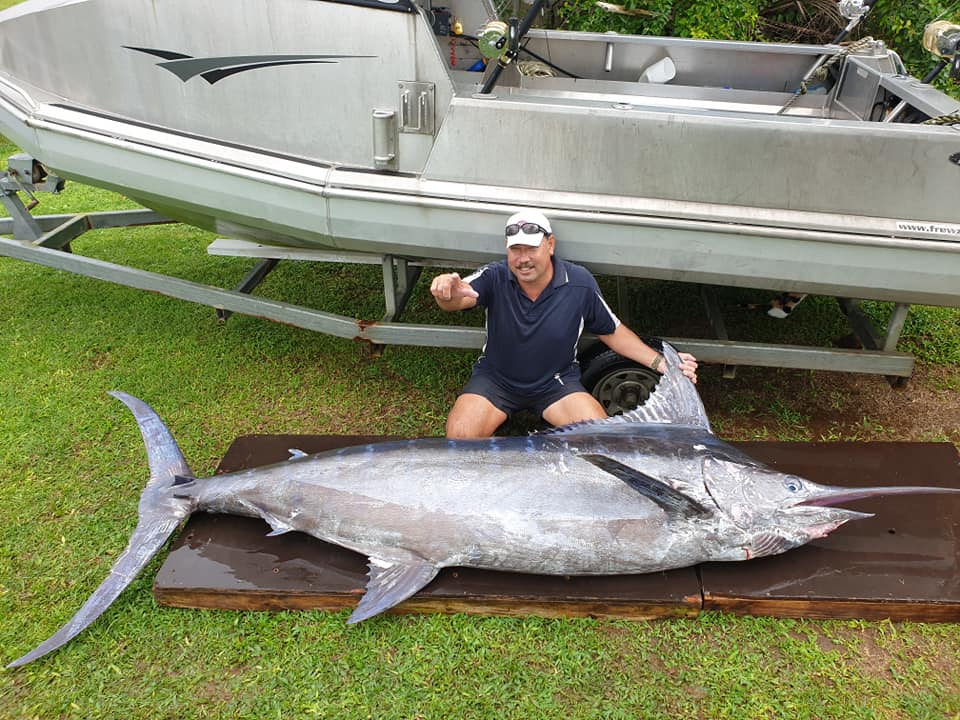 Fish Niue with PAUL PASISI CHARTERS aboard Temana a 20' open hardtop pontoon boat, custom built for Niue's sea conditions. Temana complies with all Niue Safety requirements and your Skipper Paul Pasisi is one of the Islands most experienced fishermen and Skippers with over 30 years fishing in Niue waters and 20 years Charter fishing, Spear-fishing and Whale Watching.

Contact: Paul Pasisi
Phone: +683 4103
Mobile: +683 6868
Email: [email protected]
*CLOSED UNTIL FURTHER NOTICE