A Brief History
Niue Yacht Club is known as the "Biggest Little Yacht Club in the World - where no one owns a yacht or knows how to sail!"
The club dates back to the early 1970's when there was increasing demand from the international sailing community for Niue to be included as a stopover as part of their circumnavigation. Niue was seen as an ideal stopover during the Coconut Run because of the predominant pattern of trade winds.
But as the largest uplifted coral atoll in the world, mooring in Niue presented a whole raft of issues. The only possible mooring location was on the leeward side of the island where, although there was wharf access, there was also fragile coral reef ecosystem that needed to be protected. The only solution was to establish a mooring field to provide security for vessels while protecting the coral below, but the Government of Niue did not have the resources, manpower or skills to implement this infrastructure at the time.
Fortunately, a large group of ex-pats recognized the need for the mooring field and inaugurated the Niue Yacht Club (Inc) as a voluntary association. Over the decades since, many volunteers worked tirelessly pouring large concrete blocks to form the basis for safe mooring points. Frequent cyclones over the years often set progress back, and in 2004, Cyclone Hera virtually dislodged or buried the concrete blocks that formed the basis of the field.
Thanks to New Zealand Aid, through their contribution to the Niue Tourism Office and the Niue Government, the Niue Yacht Club received funding and the mooring field was completed in cica 2010.
Niue Yacht Club's International standing and reputation prompted the World ARC to include Niue on their circumnavigation route in 2012. This was a significant tribute to the many volunteers who contributed so much to establishing the "Biggest Little Yacht Club in the World."
Location
The Niue Yacht Club and the moorings are situated on the western side of the island near the main wharf and settlement of Alofi.
The Yacht Club has clean and tidy showers and bathrooms at the main wharf – simply follow the signs.
NYC has its base currently at the visitor information centre in Alofi which is just a few minutes walk from the wharf. A new hospitality venue is currently being procured.
Access to the wharf is via a lifting crane on the wharf. There is dedicated storage space for dingys. At times this area will become congested so please DO NOT leave your dingy over the access way for other boats as this area is used for launching fishing and dive boats and emergency vessels as well.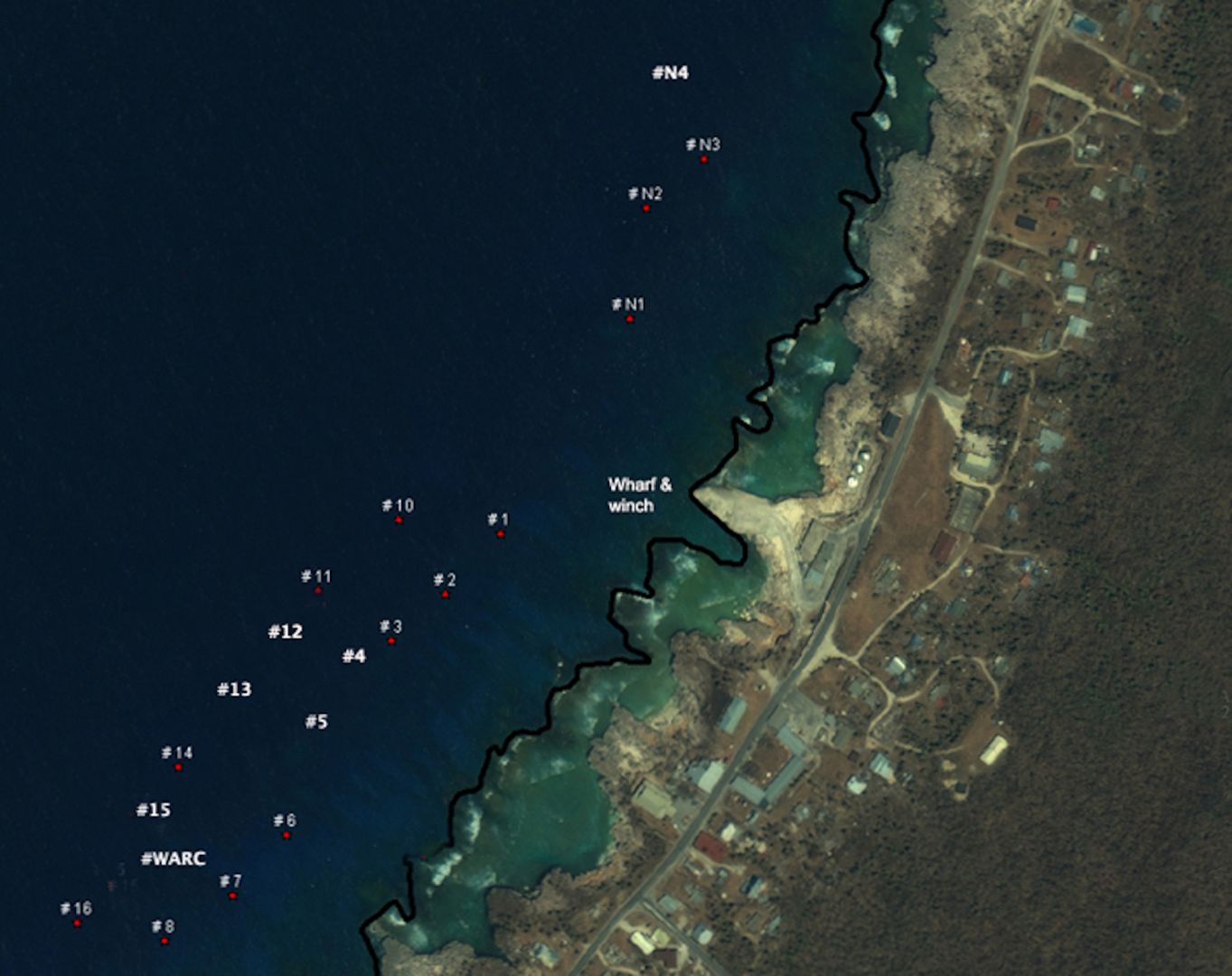 How to Book
Moorings in Alofi Bay Niue can now be booked online. Each mooring has its own number and GPS co-ordinates. Each mooring has been inspected and where required serviced to ensure safe anchorage is available for visiting yachts.

As part of the booking process, you will need to provide the following information:
Arrival and departure dates
Master name
Contact details
Vessel name and length
Number of people on board
Credit/debit card details for payment

Once your booking has been successfully made, you will receive a confirmation email that will also notify relevant authorities of your arrival details. You will then be sent or can download from the website the relevant arrival documents and procedures to enter Niue.
Arrivals and Departures
On Arrival to Niue
Pickup the mooring you have been allocated
Radio Niue Radio on channel 16 with your vessel details and mooring number that you have arrived. This channel is monitored 24 hrs a day.
Checkin / checkout procedures are available at 10am or 2pm daily. Outside of these times will be subject to availability only.
Ensure you have your documentation ready and your vessel also ready for inspection.
Head to the Visitor information centre and they can help you book transport and activities on the island whilst you are here.

On Departure from Niue
Ensure all mooring fees have been paid in full
Present your departure documents for clearing
Tell your friends what a great time you had in Niue – and come again!

Dos and Don'ts for Yachties
DO
Ask us for help before you arrive or during your stay in Niue
Follow the Bio security 'Notice to masters' that can be found here
Get out and experience the island scenery, variety of eperiences and culture
Tell your friends what a great time you had in Niue – and come again
Buy some Yacht club merchandise or a souvenier membership
DON'T
Bring food, plants or products ashore unless they have been purchased in Niue
Don't park your Dinghy across the main access or parking area on the wharf – it will be removed if it is in the wrong place
Sundays are a day of religion and rest in Niue – please don't use your engines during church times to access the wharf
Do not attempt to swim to whales if they are close to the mooring field or sail your boat to them. This is highly illegal in Niue unless you are with a licensed whale experience operator.

Contact Us
Email - [email protected]
Channel 16 - Niue Radio/Telecom